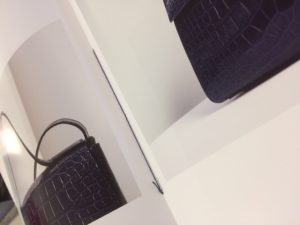 Our rare vintage 3-hole sewing machine creates perfect figure of eight stitches at a fixed length of 100mm i.e. 2 loops between 3 holes at 50mm each. This style of sewing works with folded and inset bookblocks which are placed over the saddle.
It is ideal for small runs through to those that run into the thousands of copies as we can typically sew around 2000 per day on a single stitch.
We are able to offer single stitches, double stitches and on occasions for large work, 3 stitches. Typically, these stitches would be of equal distance apart or from head and tail but we can place the stitch off-centre if required.
We can work with short sections and throwouts, 8pp gatefold and 6pp covers, Z-fold covers and we are able to centre covers and/or smaller sections within the bookblock.
We can also offer 3 or 5 Hole sewing by hand for smaller runs or when an alternative thread medium is required (embroidery thread, ribbon etc).